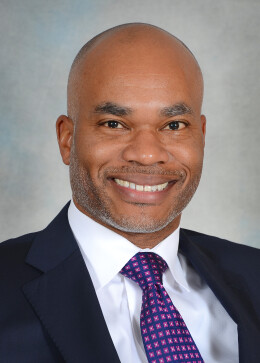 Rev. Dr. Darryl Warren Aaron is the Pastor of the historic Providence Baptist Church in Greensboro NC. Under Dr. Aaron's leadership, Providence Baptist Church has had unprecedented growth in membership, serving the community and members with an emphasis on missions and children's ministries. Moreover, the church has launched a strategic plan that has 18 initiatives with 6 focus areas, including a Freedom School. Dr. Aaron within 3 years he has brought innovation and vitality.
Dr. Aaron is regarded as one of the unique prophetic voices of justice and grace in the pulpit. He keeps his head upon the heartbeat of the community and has courage to speak truth to power. His prophetic voice has been heard throughout the world and nation. He has proclaimed for Cooperative Baptist Fellowship, Baptists Alliance, New Baptist Covenant, General Baptist State Convention, Ellison-Jones Convocation.

A native of Charlotte NC, Dr. Aaron is the product of CMS, completed his B.A. degree in Dramatic Literature at North Carolina Central University and received his teacher certification from University of North Carolina - Charlotte. He continued his studies at the Samuel Dewitt Proctor School of Theology at Virginia Union University where he received the Master of Divinity degree. He received his Doctor of Ministry from Drew University. He is an ISGAP Fellow where he studied at Oxford University, FTE Fellow with Project Rising Sun, and has studied at Yale University.
Dr. Aaron has been actively involved in the community serving in many capacities: Brenner Hospital (Board Member), YMCA (Association Board Member), Crisis Control (Board Member), CHANGE (Strategy Board Member), Bethesda Center (present-Board Member) General Baptist State Convention of North Carolina (Instructor), Lott Carey Missionary Society (Facilitator), American Baptist Churches (Instructor – Wisconsin Conference), NAACP, Habitat for Humanity, National Society of Black Engineers (Lecturer), Mecklenburg Ministries, Wake Forest Divinity School (Adjunct Professor), Missions in West Africa, Israel and Romania (Preacher).

Dr. Aaron and his wife Monica Aaron are proud parents of Naomi Audrey Aaron and Noah Augustine Aaron. When he has spare time, Rev. Aaron enjoys reading, jogging, golfing and the performing arts.
When asked about serving the church in the present age, Dr. Aaron stated, "The church today has come upon one of the most unique moments in her history to be her most authentic self. The church cannot shun this responsibility to find her place where Jesus found His place-with those who are on the margins and speak truth to power. History will record that the church took leaps forward like never before or she regressed like never before."